My name is Cynthia McCready of Kennewick, Washington and my rabbitry is "McCready's Hugga Bunnies". I operate a very small rabbitry as a hobby and treasure the adventure! I have about 40 Netherland Dwarfs and I show Siamese Sable, Siamese Smoke Pearl, Sable Marten, Smoke Pearl Marten, REW and Himalayan's.
I have been a 4-H Leader/Activity Leader for 11 years now, a mom for 24 years and a new grandmother as of July 9, 2003 to Liliana Renee Cortez. Our 4-H club is called "Rada Rabbits & Cavies 4-H Youth Club". This club is preparing for their "11th Annual Rada Rabbit & Cavies Show & Seminar" to be held on April 24, 2004 in Kennewick, Washington. Click on the 4-H button below for details on our club and show.
I have been showing at national competitions since 1998. At my very first show in Ohio, I took a 5th place with a Sable Marten Jr. doe and I was hooked on attending big national shows. I've made many friends during my travels and look forward to meeting new Netherland Dwarf breeders at each show.
My daughters and I have really enjoyed our rabbit project. Even though my daughters are grown and in college now, we developed a wonderful mother and daughter hobby. Plus I still see them scooping up little kits and loving them. Future 4-H moms in the making!
I currently hold memberships in the following associations.
American Netherland Dwarf Rabbit Club
Northwest Netherland Dwarf Rabbit Club
4-H Activity Leader
American Rabbit Breeders Association
Tri-Cities Rabbit Association
Washington State Rabbit Breeders Association
Oregon League of Rabbit & Cavy Breeders
"McCready's Hugga Bunnies" is a Charter Breeder
I do have stock for sale throughout the entire year, please click on the For Sale button or send an email and I will let you know what I have available. I will be attending the following national shows and space is limited, but I will be bringing some stock for sale.
November 2-7, 2003 2003 ARBA National Show in Wichita, Kansas
April 16-18, 2004 2004 ANDRC National Show in Plymouth, California

Check out the NEW Northwest Netherland Dwarf Rabbit Club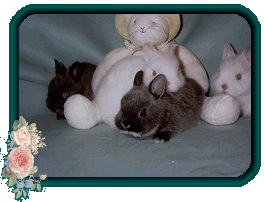 For Information on Our up coming shows visit http://www.freewebs.com/radashows/